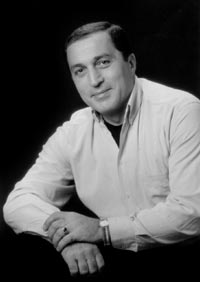 Born in the Georgian capital of Tbilisi, he received his vocal education in his hometown under Olimpi Khelashvili. He has been a member of the local opera company there since 1986. Together with fellow artists from the former U.S.S.R., he was selected for finishing studies under Giulietta Simionato and Edoardo Mueller at the Teatro alla Scala in Milan. In 1981, he emerged as the winner of the Voci Verdiane international vocal competition in Busseto, going on to win the gold medal and first prize at the Tchaikovsky Competition in Moscow the following year. In 1985, he triumphed again at the International Luciano Pavarotti Competition. He proceeded to cause a major sensation at London's Royal Opera House, where he made his debut with Ramfis/AIDA, alongside Katia Ricciarelli and Luciano Pavarotti, conducted by Zubin Mehta. From 1982 he was studying in Odessa with Evgeny Ivanov and after he was giving his concerts all over the world together with concertmaster Ludmila Ivanova.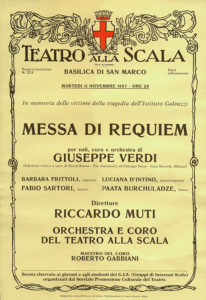 From that point on, Paata Burchuladze went on to conquer all the world's major opera houses. To name just a few: Teatro all Scala (NABUCCO, AIDA, LUISA MILLER, SIMON BOCCANEGRA, MACBETH, I LOMBARDI, THE FIERY ANGEL, BORIS GODUNOV), the Vienna State Opera (LUISA MILLER, BORIS GODUNOV, KHOVANSHCHINA, NABUCCO, DON CARLO, I VESPRI SICILIANI), the Bavarian State Opera (BORIS GODUNOV, NABUCCO, MACBETH, AIDA, ENTFÜHRUNG AUS DEM SERAIL, KHOVANSHCHINA), the Hamburg State Opera (KHOVANSHCHINA, MACBETH, IL BARBIERE DI SIVIGLIA, LA FORZA DEL DESTINO, BORIS GODUNOV), the Opéra National de Paris (BORIS GODUNOV, FAUST, NABUCCO), the San Francisco Opera (PRINCE IGOR, AIDA), Washington Opera (DON CARLO), and the Metropolitan Opera New York (BORIS GODUNOV, DON GIOVANNI, AIDA, KHOVANSHCHINA, DON CARLO, NABUCCO).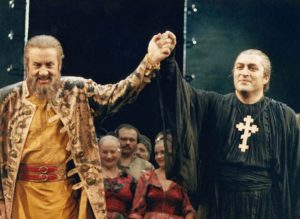 Mr. Burchuladze first appeared with the New Israeli Opera in 1994 and has since sung the majority of his repertory with the company, to which he has very close bonds. His most recent successes have been LA GIOCONDA, MEFISTOFELE, and FAUST. Beyond his operatic fame, Mr. Burchuladze is also a celebrated and refined concert and recital singer, regularly performing with the most important festivals and producers worldwide, including La Scala, Musikverein and Konzerthaus Vienna, Salzburg Festival, Covent Garden, the Deutsche Oper Berlin, the Bavarian State Opera, Stuttgart State Opera, Tonhalle Zurich, La Monnaie in Brussels, La Bastille and Salle Gaveau in Paris, Solothurn, the Palau in Barcelona, Sevilla, Warsaw, Moscow, etc.
At the invitation of legendary...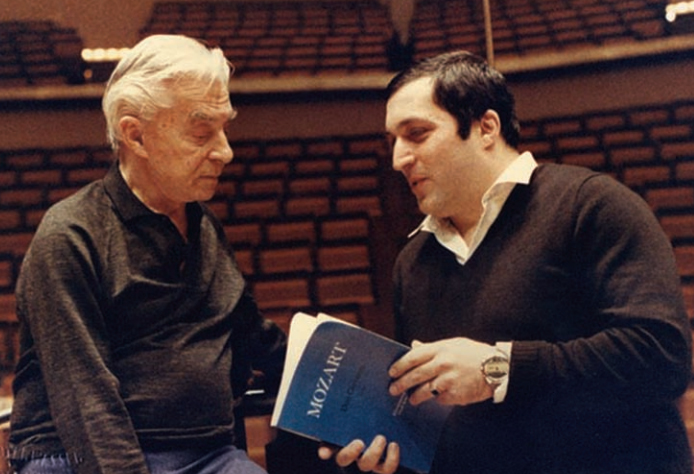 At the invitation of legendary conductor Herbert von Karajan (who referred to him as the second Schaljapin), he sang Commendatorein Mozart's DON GIOVANNI at the Salzburg Festival in 1987 and starred in the REQUIEM MASSES by Verdi and Mozart as well. He returned to Salzburg in the summer of 2002 for a new production of TURANDOT and concerts together with Riccardo Muti and Valery Gergiev. Paata Burchuladze received special acclaim for his portrayal of Boris Godunov and was invited to inaugurate the 1990/91 Met season with the role, which he sang at Covent Garden as well as the State Operas of Vienna and Munich (singing his 100th performance of Boris in July 1995 at the latter).
Mr. Burchuladze's discography comprises IL BARBIERE DI SIVIGLIA, SIMON BOCCANEGRA, AIDA and ERNANI for DECCA, Mozart's DON GIOVANNI and MESSA DA REQUIEM, LA FORZA DEL DESTINO, EUGENE ONEGIN and KHOVANSHCHINA with Deutsche Grammophon, RIGOLETTO with EMI, LA BOHEME and NABUCCO with Koch-Schwann as well as SAMSON ET DALILA for Philips.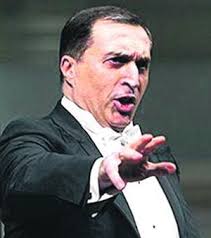 His 2010-12 seasons included appearances at the Royal Opera House Covent Garden (THE TSAR'S BRIDE), at the Liceu in Barcelona and the Palau de la Musicá in Valencia, in Verdis AIDA with Masada Festival in Israel, also MACBETH with Deutsche Oper Berlin, IL BARBIERE DI SIVIGLIA at the Metropolitan Opera, MAZEPPA with Monte Carlo Opera, DON GIOVANNI with Opéra National de Paris – RIGOLETTO at the Palau de la Musicá Valencia, PRINCE IGOR at the Bolshoj Theatre, BORIS GODUNOV with Israeli Opera, DON CARLO with Teatro Regio di Torio, TURANDOT with Masada Festival were the highlights for the 2012/13 season with AIDA and NABUCCO with Arena di Verona, DON CARLO at the Deutsche Oper Berlin, PRINCE IGOR at Hamburg's State Opera, Verdi's MESSA DA REQUIEM in Madrid and IL BARBIERE DI SIVIGLIA at the Metropolitan Opera to follow in the coming seasons.
In February 1998, Mr. Burchuladze was named a prince by the Russian Orthodox Church. The State Opera of Stuttgart awarded his loyalty with the Kammersänger title in July 1998. He was appointed Goodwill Ambassador of the United Nations in 2006 and UNICEF Goodwill Ambassador in 2010, in the same year he got Presidential Order of Excellence of Georgia and Honor of Commender by the President of Italian Republic. In 2014 year the President of Republic of Austria awarded him with the Cross of Honor, First Class, for Science and Arts.